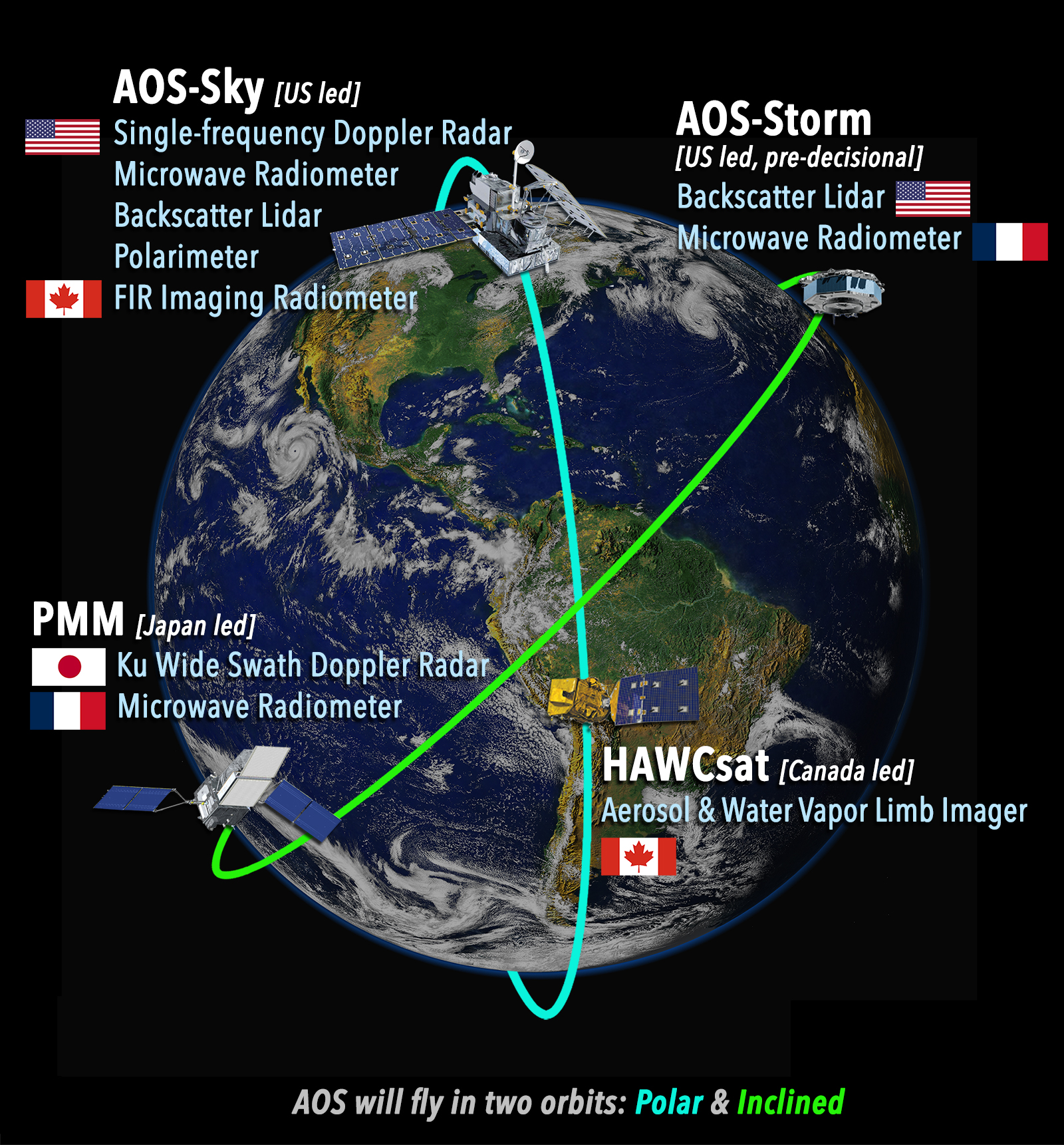 Researching answers to the AOS science questions will involve collecting measurements from instruments installed on spacecraft and suborbital platforms. The data will enable improved understanding of aerosols, convective storms, clouds, precipitation, and the impact on our climate.
How will all these parameters be measured?
The inclined orbit spacecraft will fly within a band of latitudes centered on the equator, for the purpose of taking measurements at varying times of the day. This orbit allows the instruments to "see" how cloud, precipitation, and aerosol properties change over the course of the day.
The polar orbit spacecraft covers the full range of latitudes from pole to pole, but only gets measurements at two fixed times of the day (01:30 and 13:30). This orbit allows for better characterization of more slowly changing processes across the entire globe and provides continuity with past missions in similar orbits.
Science Applications of the Instruments
The AOS Mission will provide information to improve our understanding of:
the properties of low and high clouds;
cloud, precipitation and the dynamics of convective storms;
cold cloud processes and associated precipitation;
links between aerosols, weather, climate and air quality; and
aerosol-related radiative forcing of the climate system
The data from the various AOS instruments will be applied to study:
| Convection | Climate | Air Quality | Base Measurements |
| --- | --- | --- | --- |
| Ku Wide-Swath Radar with Doppler | Ka + W (radar) | HSRL (lidar) | Microwave Radiometer |
| Microwave Radiometer | Ku Wide-Swath Radar with Doppler | FIR Imaging Radiometer | Backscatter Lidar |
| UV-VIS (spectrometer) | HSRL (lidar) | Polarimeter | |
| Water Vapor Limb Imager | Water Vapor Limb Imager | Aerosol Limb Imager | |
| | FIR Imaging Radiometer | | |
Instruments - How and Why?